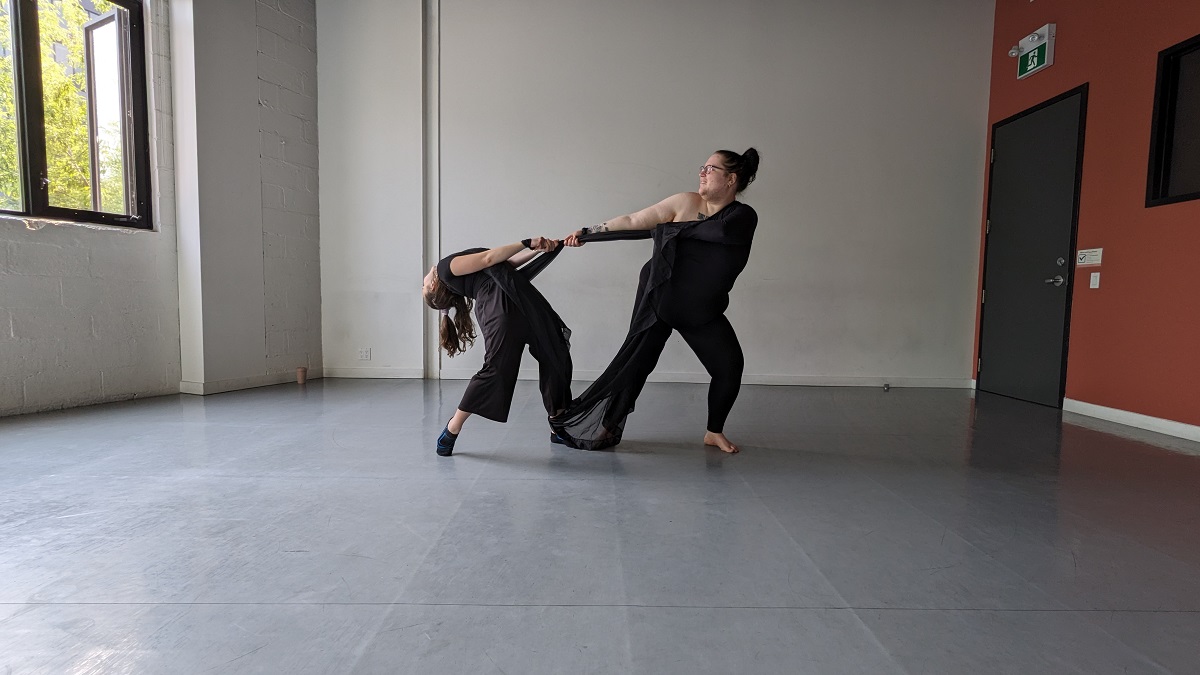 NEURONS
#CreateDangerously | Tkaronto (Toronto), ON
August 12th @ 7:30 pm
Betty Speers Theatre, Capitol Centre
150 Main St. E, North Bay
NEURONS is a short performance dance piece that takes a look inside the mind and how outside influences affect and shape the functions of our brain and disrupt communication within it causing us to turn on ourselves.
NEURONS is performed by Meek and Nicole Decsey of #CreateDangerously.
About the Company:
#CreateDangerously is a new performance collective based in Tkaronto. It is our mission to share the raw, real, and sometimes ugly truths of our lives. Many of our topics deal with mental and physical health, body image and identity. We are a collective who is comprised of and works with people from the queer & trans community, female identifying & gender diverse people, mad and body diverse communities.
https://www.itsmeek.com/createdangerouslycollective
About the Artists:
MISHA "MEEK" BAUER (He/It/She) – DIRECTOR & PRODUCER
As a contemporary and abstract dance and movement artist who inhabits a fat body, Meek approaches dance from both an embodied position and a curious position asking what CAN he do instead of dwelling on what they cannot currently do. This method of dance and movement art allows her to connect with it's body holistically and nonjudgmentally and makes dance more than an expression and artform but a tool of healing and teaching.
From years three to eight, Meek was enrolled in Jazz, Tap, and Ballet at Dimensions in Dance (Kitchener, ON). He went to an arts-focused high-school (Eastwood Collegiate) where she took the Dance program and has since focused on growing through various peer mentorships. Meek prides itself on being mostly self and peer taught having consciously and purposefully departed from what can often be harmful institutional methods of learning.
NICOLE DECSEY (She/Her) – CHOREOGRAPHER & CO-PRODUCER
Nicole Decsey is a performer, choreographer, artistic director, arts critic, and dance instructor based in Mississauga and Toronto with a BFA in performance dance from Toronto Metropolitan University. After receiving her BFA and participating in many dance intensives across the country Nicole developed her own grassroots dance company: Nicole Decsey Dance Projects (NDDP), through which her latest work We Lost You A Long Time Ago premiered on February 25th, 2023 to a sold out audience.
Nicole has performed in multiple events and venues including corporate events, the Toronto Fringe Festival, Nuit Blanche Festival, and the iconic Dancemakers space in the Distillery District. Aside from her work as a performer and artistic director for NDDP Nicole has worked as a crew member in lighting, costuming, and administrative positions. She is also a rehearsal director for Human Body Expression, a contributor to the The Dance Current, and a choreographer and collaborator for Create Dangerously Collective.
ANETT RUMANÓCZKY (It/Anett/She) – FIGHT/STUNTS, COSTUMES, HAIR & MAKEUP
A dancer and professional actress in both theatre and film. Anett graduated from Shakespeare Academy of Dramatic Arts in 2007 where she then went on to work as an actress at Mainstreet Theatre for 5 years during which time she joined the costume department. Anett moved to Canada in 2012 and as of today, she's a full member of Equity UK and ACTRA. She has worked on countless movies and tv series as an actor, stunt and stand-in, such as The Handmaid's Tale, Y the Last Man, Accused, and Robyn Hood to name a few. Anett has worked on several dance projects with Ismailova Theatre of Dance and is both the Dramaturg and Costume Mistress for Nicole Decsey Dance Projects.