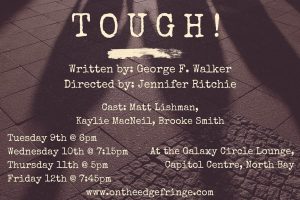 Written by Canadian playwright George F. Walker
Directed by Jennifer Ritchie
Performed by Matt Lishman (Bobby), Kaylie MacNeil (Jill) and Brooke Smith (Tina)
Tough! is a raw emotional dialogue between three teenagers. Bobby has been caught cheating on his pregnant girlfriend Tina. Jill, Tina's best friend, has hated Bobby since childhood and is piqued by an opportunity for confrontation. As the story explores the characters and their choices, Walker's play reveals teenage angst with explosive savagery and characteristic savage humour. Blunt honesty and emotional extremity combust in comic shock.
Ticket Price: $10
Duration: 1 hour and 15 minutes