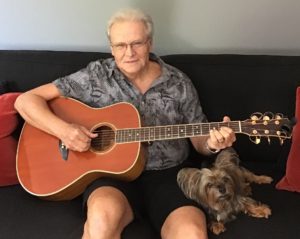 Ted Chase
Wednesday, August 12, 2020 @ 6:30 pm, Live on Facebook
An "old folkie" at heart (emphasis on "old"), I've been playing acoustic guitar since the early 60s, when the short-lived folk music craze dominated university campuses. Because "Fringe" is primarily theatrical, I have tried to choose songs that tell stories in a dramatic way, with lyrics that evoke vivid images. There is also a strong emphasis on Canadian content. Half of the songs performed will be originals, with most of the remainder being covers of tunes by respected Canadian artists.
About the Artist:
Ted has lived in North Bay since 1971. During his 37 years as a professor and senior administrator at Nipissing University, and continuing in his retirement, he has been a strong supporter and part-time participant in the area arts community. During the 70s and 80s, he played and recorded with several local rock and country rock bands. More recently, in collaboration with the brilliant Mark Allen, he has composed and performed original music and lyrics for musical theatre productions, including Nipissing Stage Company's "Train Town" (2000 and 2005) and Dreamcoat Fantasy Theatre's "Ebenezer, the Musical" (2013). In 2009, he released "Time Capsules", a retrospective CD of his musical adventures over four decades. He has always said that his job at Nipissing brought him to North Bay, but the music and theatre scene here is the reason he never wanted to leave.
YouTube Channel: https://www.youtube.com/user/tedcapsules
Facebook: https://www.facebook.com/ted.chase1