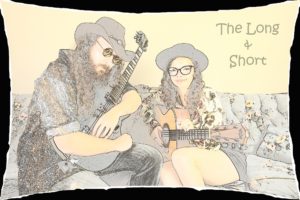 The Long & Short
Saturday, August 15, 2020 @ 6:30 pm, Live on Facebook
We play across most genres (pop, country, alternative, indie, blues) but have a focus on folk and rock. We're predominantly acoustic with a spattering of solos with harmonica and electric guitar.
About the Artists:
The Long & Short is a folk rock duo featuring Anthony 'Long Hair' Leclair (the long) and Marla 'The Mouse' McHardy (the short). They have a special brand of interesting originals and covers that can play well at any event, large or small.
Facebook: https://www.facebook.com/LongAndShortMusic/
YouTube: https://www.youtube.com/user/LeclairStudios/videos
Patreon: https://www.patreon.com/leclairstudios?fan_landing=true