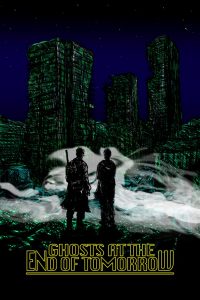 "Ghosts at the End of Tomorrow" and other recent works by Clayton Windatt
BLOOD-TEETH-BONES Collective – Sturgeon Falls, ON
Run time: Approx. 60 mins
WRITTEN & READ BY: Clayton Windatt
Clayton Windatt is working on a series of one-act plays addressing different aspects of the end of the world. These new works explore current environmental changes in the year 2020 during the COVID-19 pandemic and social isolation lock-down. Although early drafts began before the pandemic, this time period has influenced this writing greatly, pushing them to explore core ideas of human nature and earth's potential grim futures. It is Windatt's hope that by exploring these situations they can find pathways to better futures both in our current climate and for those who will come after us. Windatt is currently workshopping these short plays and seeking venues to engage readings and possible production.
Ghosts at the End of Tomorrow
Survival is seemingly the only focus for Clayton and Isaac as they sift through the remnants of a fallen world. Everything is gone, leaving only broken places, lost memories and echoes of the past. Adapting to the ruins has become the new normal but now, as the only two humans left alive, they discover how broken and lost they really are. "Ghosts at the End of Tomorrow" is a short play written by Clayton Windatt and is currently under development with support from Isaac Thomas as the original idea for this piece came from a discussion between both artists.
Windatt will also be reading their play, "Sparse Context", an exploration of our near futures and the consequences of human actions in proximity to each other, as well as other works in development.
About the Artist/Company:
Blood-Teeth-Bones (BTB) is the collective established by Clayton Windatt to develop new works and create professional performance opportunities for writers, playwrights, actors and artists specifically working in performance art and theatre. This ad-hoc multidisciplinary group collaborates on projects and promotes individual works while striving towards shared goals. Currently BTB is working towards producing new theatre works and seeking opportunities to activate space within the Nipissing District.
Clayton Windatt is a Métis non–binary multi-artist living and working between Sturgeon Falls and Toronto, Ontario. With an extensive history working in Artist-Run Culture and Community Arts, and through their own activism, Clayton works towards healthier relationships for national and global Indigenous artists and communities. Clayton works in/with community, design, communications, curation, performance, theatre, technology, and consulting, and is a very active writer, filmmaker and visual-media artist.
This reading was supported through the Playwrights Guild of Canada's PlayConnect program.