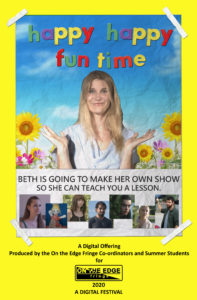 Happy Happy Fun Time
OTEF Summer Student Program
Run Time: Under 60 mins
WRITTEN BY: Joshua Bainbridge, Steph Kast, Matt Lishman, Livy Lyle & Emily Tilander
DIRECTED BY: Joshua Bainbridge
EDITOR: Livy Lyle
CINEMATOGRAPHER & CAMERA: Matt Lishman
CAMERA & MAKE-UP: Emily Tilander
AUDIO & PROPS: Steph Kast
LIGHTING & LOCATIONS: Morgan Bedard
CONTINUITY, SET DECK & LIGHTING: Kaitlyn Stewart
SET DECK, PROPS & COSTUMES: Kelsey Ruhl
CAST: Kelsey Ruhl as Beth, Steph Kast as Marcie, Kaitlyn Stewart as Girl from the tracks, Matt Lishman as Max, Emily Tilander as Sam, Morgan Bedard as Neil, Joshua Bainbridge as Russell, With cameo appearances by Jen Carroll, Rod Carley and Nate Brubacher
After a few rattling incidents, Beth is fed up with the way people treat her and others. With the help of her friends, she has taken it upon herself to create a show that teaches adults the dos and don'ts of just being a good person. It's not that hard!
Happy Happy Fun Time was written as a collective creation over 7 days and shot over 14 days. The cast served as the total crew and the project was filmed 90% in isolation with only one performer on screen at a time. Each crew member was assigned their department and only began to learn the skills required to execute their job during production. This pushed the small crew to research and develop their skills for the sole purpose of making each day of footage better than the one before it. This project was 100% about the journey and served as both educational and practical experience for the team. Regardless – we hope you enjoy.
About the Artist/Company:
In response to the cancellation of the 2020 ON THE EDGE Fringe Festival and decision to present an online festival in its place, the co-ordinators and summer students have set out to create a digital offering for the online line-up from ON THE EDGE fringe. This is the third collaborative performance developed and produced by ON THE EDGE fringe's Emerging Theatre Training Program.

ON THE EDGE fringe gratefully acknowledges the support of the Government of Canada through the Canada Summer Jobs program for this initiative.