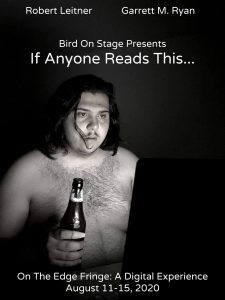 If Anyone Reads This…
Bird On Stage Productions – Toronto, ON
Run time: 60 mins
WRITTEN & DIRECTED BY: Garrett M. Ryan
CAST: Robert Leitner & Garrett M. Ryan
After stumbling across a three year old Reddit post made by a long inactive throwaway account, with zero likes or comments, regarding a young girl in a very dangerous situation, Robert becomes obsessed with discovering the identity of the poster and ensuring her safety. Alone in his apartment during the quarantine, Robert descends into an alcohol fuelled madness, while falling into a dark internet rabbit hole, all while battling demons that have arisen through months of isolation.
Warning: This video contains Strobe Lights, Substance Abuse, Weapons, and Themes about suicide.
About the Artist/Company:
Bird On Stage is a Canadian theatre company founded in 2017 by Garrett M. Ryan and Brody Hawkins. Since 2017, Bird On Stage has produced several shows across Northern Ontario, winning multiple awards including Adjudicator's Choice for "Pigeon!" (2019) and Audience Choice for both "Now You're Acting!" (2018) and "Pigeon!" (2019) at ON THE EDGE Fringe. Bird On Stage has a commitment to both charitable pursuits and working with Northern Ontarian organizations, donating money to WIFT (Women in Film and Television) and working with Hands to produce a touring show about children's mental health. In 2019, the company relocated to Toronto and will continue to produce shows in Northern and Southern Ontario, as well as the rest of Canada. In the future, Bird On Stage hopes to work to promote diverse Northern Ontarian voices by producing English, French, and Indigenous works from the North across Canada.
https://www.instagram.com/birdonstage/
https://www.facebook.com/BirdOnStageProductions/