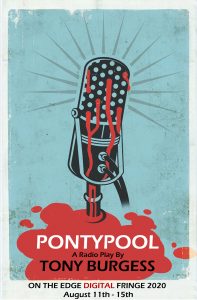 Pontypool
Joe Drinkwalter – North Bay, ON
Run Time: Approx. 40 mins
WRITTEN BY: Tony Burgess
CHOREOGRAPHED BY: Hannah McCallum
DIRECTED BY: The Collective
SOUND MIXER: Hannah McCallum
CAST: Joe Drinkwalter as Grant Mazzy, Hannah McCallum as Sydney Briar, Sophia Gallardi-Clouthier as Laurel Ann Drummond, Garrett Ryan as Dr. John Mendez, and Nicholas Babin as Ken Loney. With appearances from Ali Farhadi, Brody Hawkins, Robert Leitner, Heather Theriault, Cat, Lisa Blais, and Angela Blais.
SPECIAL THANKS: Tyson Carlson
In the quiet town of Pontypool, Ontario, no one is safe from an epidemic so devastating it will leave you speechless.