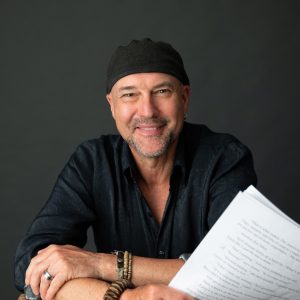 ROD READS (An ON THE EDGE Fundraiser)
Word Toast Collective – North Bay, ON
Run Time: 50 mins
WRITTEN BY: Rod Carley
VIDEOGRAPHY BY: Ed Reagan
TECHNICAL SUPPORT & PROMOTIONAL DESIGN: Joshua Bainbridge
KINMOUNT TRAILER & BOOK DESIGN: Kevin Hoffman
ROD READS features a selection of high-energy comic readings from Rod Carley's new work-in-progress, Grin Reaping, and a sneak peek at his new novel, KINMOUNT. It is an ON THE EDGE fundraiser.
Grin Reaping is a series of interconnected short stories in which Rudy Black, a college English teacher stuck both in middle age and in the middle of his five siblings, transforms the strangeness of his everyday life into exaggerated home-movie prose.
KINMOUNT tackles the quest narrative with a funny and singularly Canadian satirical beat. Rod draws on his own history and creates a tale revolving around a small town conspiracy pitted against a guest stage director from out-of-town. In one hilarious chapter after another, Dave Middleton becomes the reluctant emissary of truth in a comic battle between artistic integrity and censorship.
"Rod Carley's Kinmount is a hit that kept me laughing and turning the pages from curtain to curtain. It is funny, thoughtful, compelling, and filled with humane insights about people and their passions. Not since Robertson Davies' Tempest-Tost has a community Shakespeare production been so much fun."
-Terry Fallis, bestselling author of Albatross
KINMOUNT is scheduled for Fall Release 2020. It is available for Pre-order from Latitude 46 Publishing and your favourite bookstore. Visit www.latitude46publishing.com
About the Artist/Company:
Rod Carley's new novel, KINMOUNT, arrives in September. His first novel, A Matter of Will, was a finalist for the 2018 Northern Lit Award for Fiction. His short story, A Farewell to Steam, is featured in the non-fiction anthology, 150 Years Up North and More – all with Latitude 46 Publishing. Rod is an award-winning director and actor, having directed and produced over 100 theatrical productions to date including 15 adaptations of Shakespeare. He was the 2009 winner of TVO's Big Ideas/Best Lecturer competition. Rod is also a professional broadcaster, narrator, and an in-demand public speaker. He is a graduate of York University and the Humber School for Writers. Rod is the Artistic Director of Canadore College's Acting for Stage and Screen Program and a part-time English professor at Nipissing University.