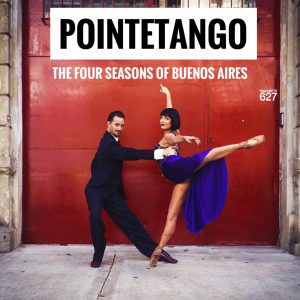 The Four Seasons of Buenos Aires
PointeTango – Montreal, QC & Buenos Aires, Argentina
Run Time: 40 mins
CHOREOGRAPHED & DIRECTED BY: Alexander Richardson
PERFORMERS: Lead Ballerina – Erin Scott-Kafadar, Lead Tanguero – Alexander Richardson, Lead Tanguera – Sandra Naccache
★★★★★Award-winning dance company, PointeTango presents an explosive forty-minute tango show combining the elegance of classical ballet with the raw emotion of Argentine tango. What happens when ballet meets tango? Discover the magic of Buenos Aires in this beautifully filmed work. Starting with the music of Astor Piazzolla's Las Cuatro Estaciónes Porteñas, this project was filmed in a historic Palacio in Buenos Aires and stretches time between moody quietude and the furious rhythm of the city. As dancers in heels and pointe shoes come together in duets, trios, and solos, PointeTango showcases its dancers' passion and connection through intricate footwork, dazzling lifts and soft lyricism.
Visit pointetango.com to learn more and click DONATE to help us film our newest show!
WINNER Best of Festival & Best of Venue ~ Saskatoon Fringe Festival
WINNER Favourite Dance Show & Favourite Duo ~ Victoria Fringe
WINNER Best Artistry ~ Windsor Fringe
WINNER Patron's Pick ~ Toronto Fringe
"The performance is filled with intricate steps, graceful bends, swoops and gasp-inducing lifts. The sheer physicality and precision is enough to bowl anyone over." ★★★★★ (Saskatoon Star Phoenix)
"They dance as one body, with grace and precision[…]Definitely a must-see!" ★★★★★ (Monday Magazine)
"To say that the performance is amazing is selling it short[…] Go see it!" ★★★★★ (Check the Program)
About the Artist/Company:
PointeTango is a unique dance company that emerged from the question: 'What happens when classical ballet meets Argentine tango?' Pushing new boundaries of dance, PointeTango has created a new dance vocabulary by combining the intimacy of Argentine tango with the elegance of classical ballet. The PointeTango technique respects the codes and connection of the Argentine tango "abrazo" (embrace) while searching for new solutions and opportunities to the challenges encountered when transitioning from heels to pointe shoes.
Based in the iconic city of tango, Buenos Aires, PointeTango is directed by choreographer and dancer, Alexander Richardson and was created with lead dancer, Erin Scott-Kafadar. Originally from Canada, Erin and Alexander perform regularly in Buenos Aires, and perform internationally at festivals, theatres and on cruise ships. Their original highly acclaimed shows 'Into the Tango' and 'Para Dos' have wowed audiences and critics with sold-out shows and have won multiple awards.
website: www.pointetango.com
facebook: @PointeTangoProductions
instagram: @pointetango
twitter: @pointetango
crowdfunding: gogetfunding.com/pointetango