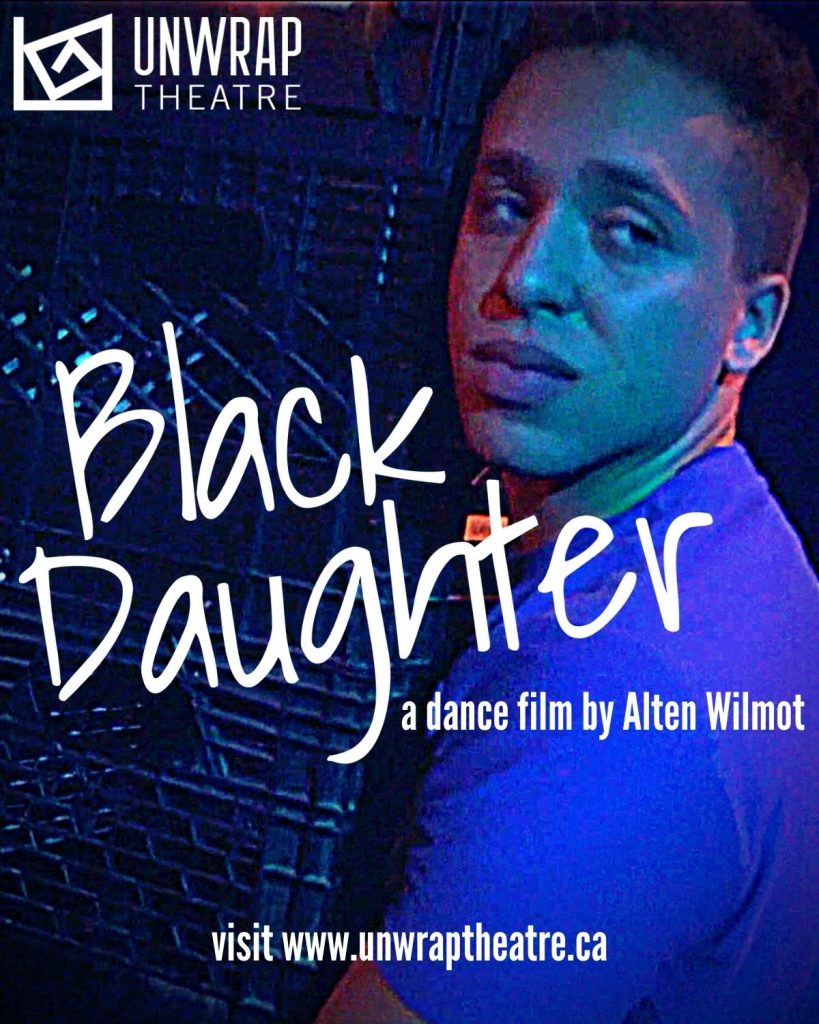 Black Daughter
Unwrap Theatre | Kitchener, ON
Run Time: 20 minutes
WRITTEN, CHOREOGRAPHED, & DIRECTED BY: Alten Wilmot
COMPOSER: Ivana Quehl
PIANISTS: Michele Wilmot & Carol Ditner-Wilson
LIGHTING DESIGNER: Leelind Keary
DIRECTOR OF CINEMATOGRAPHY: Colton West
PERFORMED BY: Maria Krotiris, Allison Ference, Alex Batycki, & Alten Wilmot
6 Months…
26 Weeks…
182.5 Days…
I've waited and waited for you to enter this world.
To see your beautifully glistening eyes, giving way into the gold at the heart of your soul.
To see your silky blemished skin as it learns to breathe in this new world.
This drier world.
This brighter world.
I've waited to see your destiny.
To perceive the shell that encloses your beauty.
The shell that will be perceived and eminently evaluated to determine your place in this world.
The direction of your path.
I'll keep waiting.
Did you know a baby's skin colour does not set until around 6 months?
_______
Black Daughter is a dance film by Alten Wilmot that portrays the love and suspense of an interracial Father, waiting for the colour of his newborn daughter's skin to set. Exploring themes of parenting, interracial children, and custody, this twenty minute film will leave you with the urge to reach out and embrace your loving parents and/or children.
About the artist/company:
Unwrap Theatre is an independent creative company that acts as a community leader in curiosity and family through the intersection of dance, music, and theatre. Our work engages diverse and untapped populations, increasing the visibility and accessibility of dance, music, and theatre in the Waterloo Region (our home), Toronto (our residence), and around the world (our stage) through live performance and media.
The arts are essential to human life. They improve our quality of life, whilst building the economy, on the foundations of inspiration. Unwrap Theatre, funnels this inspiration through professional storytelling. We use theatre, dance, and music to ignite curiosity and family amongst our audiences. We believe curiosity is the very process of life. It is the bridge between our dreams and reality. This curiosity births an organic community of fellows, inevitably brought together by common perspectives, interests and desires. We create an ecosystem of human beings who together pollinate each person's fullest potential.
Website: www.unwraptheatre.ca
Facebook: @unwraptheatre
Instagram: @unwraptheatre
Check out a trailer of the show on YouTube!