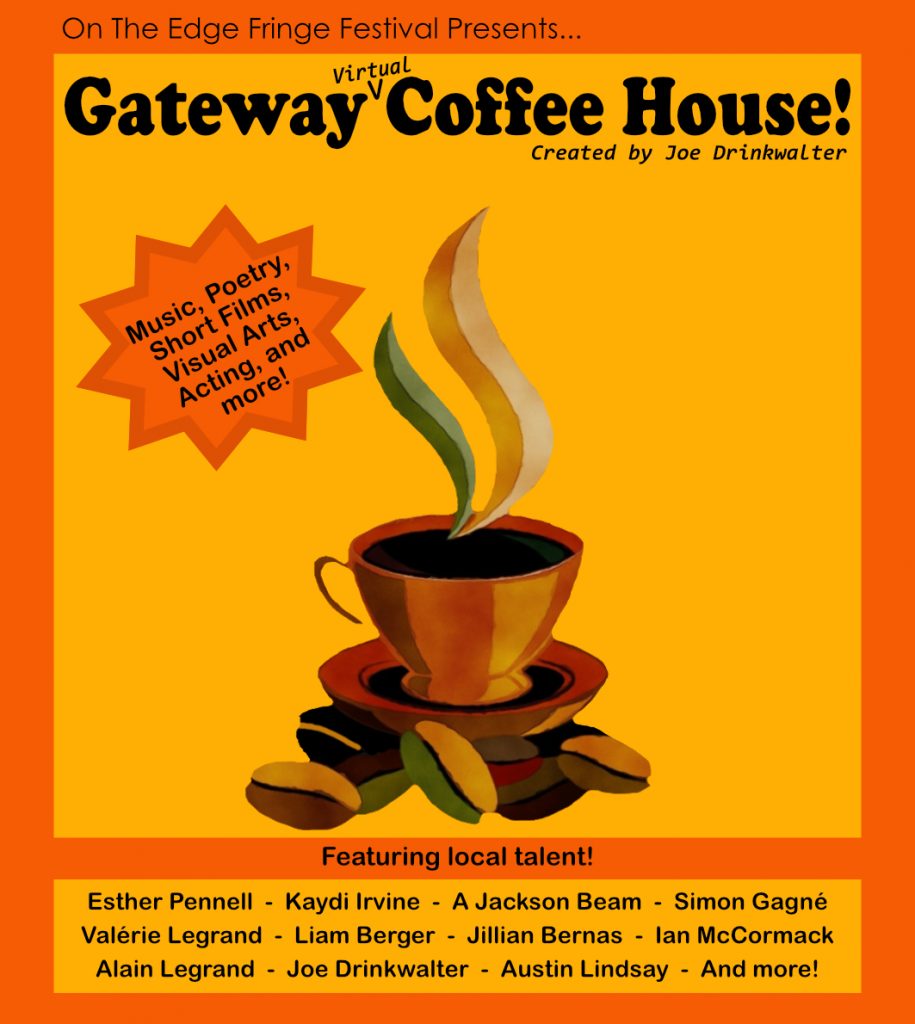 Gateway Coffee House!
Joe Drinkwalter & Co | North Bay
Run Time: Less than 60 minutes
CREATED & DIRECTED BY: Joe Drinkwalter
PRODUCED BY: Joe Drinkwalter & Austin Lindsay
FEATURING WORKS BY: Esther Pennell (Singer/Songwriter), A Jackson Beam (Poet), Kaydi Irvine (Visual Art), Simon Gagné (Singer/Songwriter), Jillian Bernas (Poet), Ian McCormack (Actor/Writer), Valérie Legrand (Singer/Songwriter), Alain Legrand (Musician), Liam Berger (Animator), Austin Lindsay (Filmmaker), and Joe Drinkwalter (Singer/Songwriter)
This project is about connecting you (yes, you!) with a small fraction of the limitless talent that our North Bay arts community has to offer. There aren't any real themes to this project, just a bunch of really cool artists coming together and showing off their talent. Consider it to be a local, virtual, 60 minute Coffee House!
WARNING: May contain mature themes/language.
About the artist/company:
This past year has been incredibly difficult for artists (duh). Throughout the pandemic, artists of all creative mediums have struggled to find a creative outlet to stretch their artistic muscles.
So, this year for the 2021 Digital ON THE EDGE Fringe Festival, we decided to divide up our 60 minute slot between different artists from in and around North Bay. We provided each artist with a small slot, and any technical or creative help they needed, and the resulting pieces speak for themselves.
Check out the artists online!
Facebook:
Esther Pennell – @EstherPennellMusician
Simon Gagne – https://www.facebook.com/cssraiders/posts/1757675784392269
Website:
A Jackson Beam – https://whitewallreview.com/northeast-blackout/
Instagram:
Kaydi Irvine – @digitalbykay @tattoosbykaydi
Valérie Legrand: @valerie.legrandmusique
Liam Berger: @liam_berger_
Jillian Bernas: @crimsonand_cloverhoney
Ian McCormack: @ian.mccormackk
Austin Lindsay: @austin.lindsay
Joe Drinkwalter: @joe.drinkwalter