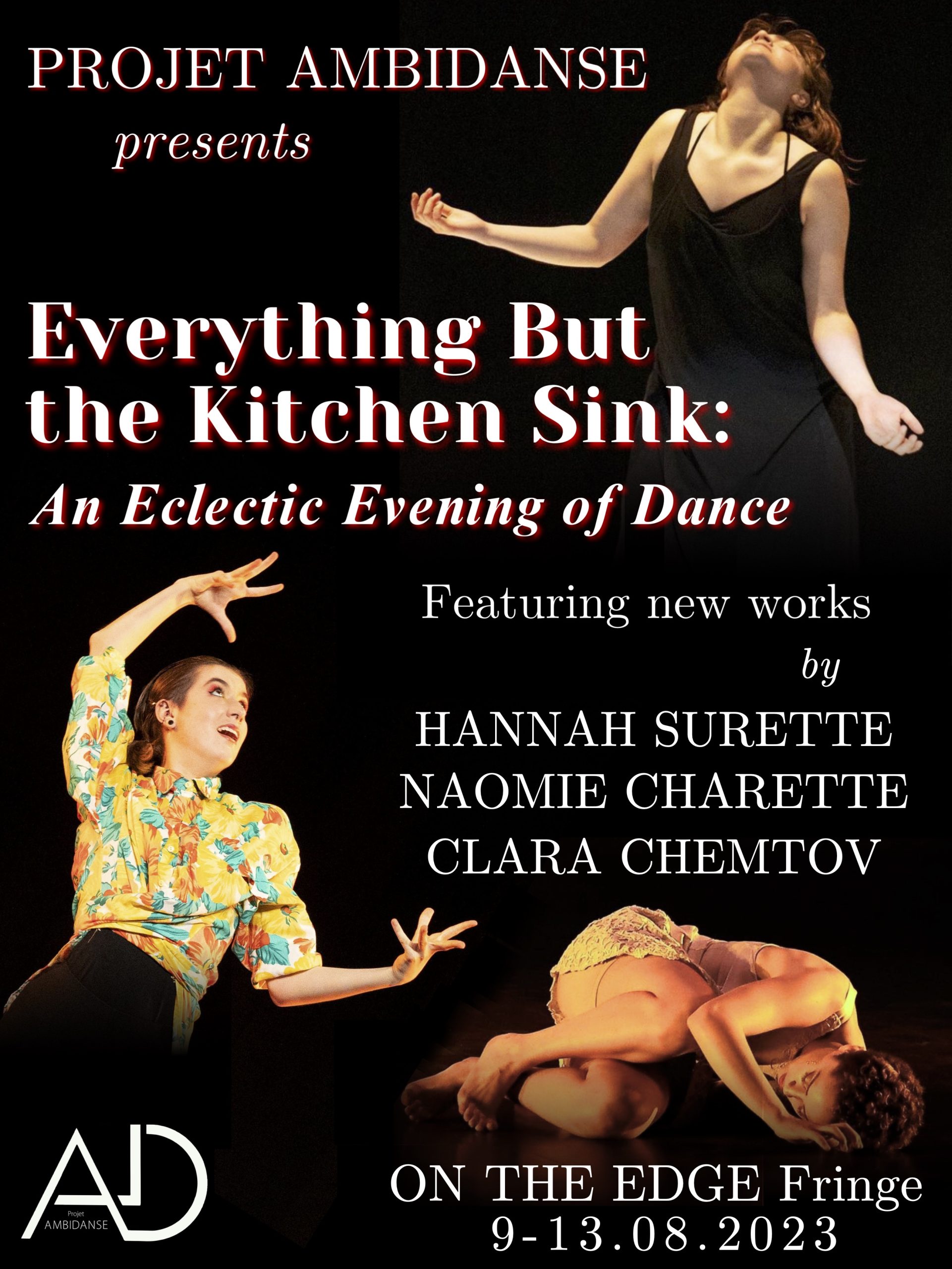 Everything But the Kitchen Sink: An Eclectic Evening of Dance
Projet Ambidanse | Montreal, QC
Venue: Betty Speers Theatre
Showtimes: Aug 9 @ 6:30 pm | Aug 10 @ 8:00 pm| Aug 11 @ 5:00 pm | Aug 12 @ 5:00 pm | Aug 13 @ 12:30 pm
Tickets: $12
Run Time: 50 minutes
Performed by: Clara Chemtov, Naomie Charette, and Hannah Surette
Outside eye: Marie-Lou Dalpé
Synopsis: Everything But the Kitchen Sink: An Eclectic Evening of Dance is a new show by Projet Ambidanse. As the name suggests, this family-friendly show is a wide-ranging collection of connected dance pieces. Throughout the works, Hannah Surette, Naomie Charette, and Clara Chemtov explore the theme of togetherness, and what it means to cultivate one's own identity within a group. From beginning to end, the audience will experience a broad spectrum of human emotions as the dancers put different aspects of their lives on display. Each act is linked by this common thread of unity and individuality. As the performers skillfully weave a continuous narrative, they depict the funny, serious, thought-provoking, and whimsical moments in their self-discovery journeys. With the variety of dances in this show, there is sure to be something for everyone!
Genre: Dance/Physical Theatre, Spoken Word/Storytelling
Audience level: General Audiences
This show contains the following content or themes: Mental Health Issues.
Connect online
Instagram: @projetambidanse, #projetambidanse