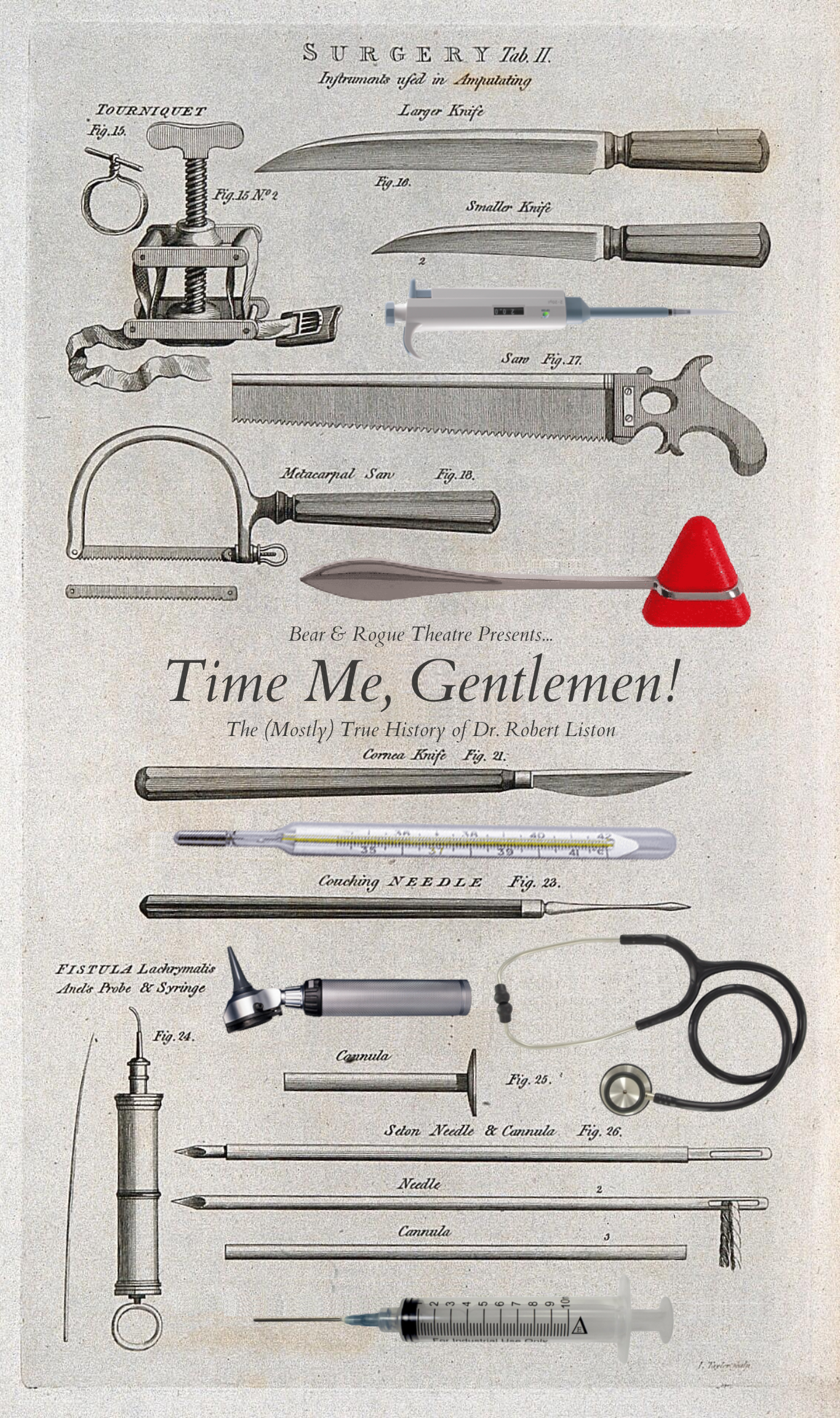 Time Me, Gentlemen!
Bear & Rogue Theatre | North Bay, ON
Venue: Kennedy Gallery
Showtimes: Aug 9 @ 8:00 pm | Aug 10 @ 5:00 pm| Aug 11 @ 5:00 pm | Aug 12 @ 12:30 pm | Aug 13 @ 12:30 pm
Tickets: $12
Run Time: 40 – 60 minutes
Written By: Abby Alexander, Tegan Andress, Zephrine Cartmill-McCrea, Lee Degagne, James DeVuono, Kenneth Li, Ian McCormack, Bryce Millard, Alienor Tellier, and Holden Waye
Directed by: Tegan Andress
Assistant Director & Costuming: Darwin Parkes
Performed by: Tegan Andress, Zephrine Cartmill-McCrea, Lee Degagne, Hunter Hodgson, Kenzie Marshall, Nika Rohachevska, Andrew Smith, Holden Waye, and Ren Whitehead
Synopsis: Originally created as a final exam piece by a group of West Ferris Secondary School students, Time Me, Gentlemen! is a devised historical tragicomedy based on the life of Dr. Robert Liston, a 19th century surgeon infamous for having performed the only surgery with a 300% mortality rate. A modern-day doctor seeks to untangle Liston's contradictory and morbid legacy when Dr. Liston invites them to see a chaotic era of his life play out. Time Me, Gentlemen! seeks to examine the medical ethics of a bygone era, and asks if things do stay the same the more they change, and whether or not that change should be feared.
Genre: Theatre
Audience level: Parental Guidance Suggested
This show contains the following content or themes: Adult Themes, Alcohol Use, Blood, Child Abuse, Death, Disturbing Images, Gender Discrimination, Medical Abuse, Medical Trauma, Mental Health Issues, Mild Language, Sexism, Simulated/Implied Gore, and Violence.
Connect online
Instagram: @bearandroguetheatre