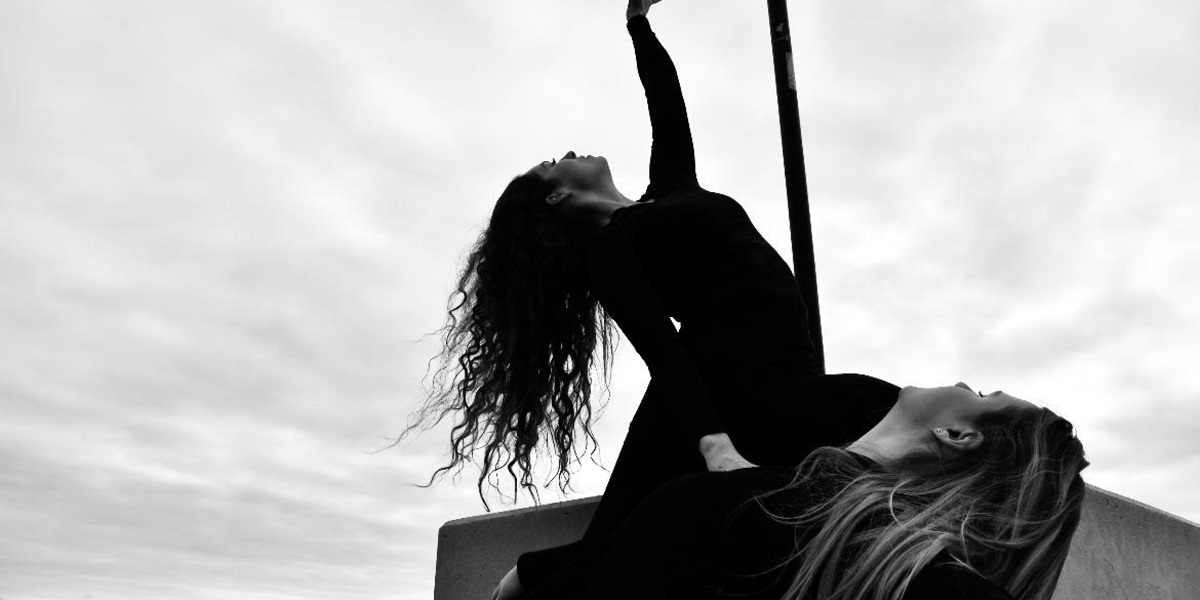 We Lost You A Long Time Ago 
Nicole Decsey Dance Projects | Toronto, ON
August 12th after NEURONS
Betty Speers Theatre, Capitol Centre
150 Main St. E, North Bay
We Lost You A Long Time Ago is inspired by the personal experience of being cut out of a loved one's life be it a friend or family because of mental health issues, personal differences, and life decisions. It depicts the shockwave of that loss and the emotional fallout it caused.
Production Credits:
Choreographer and Director: Nicole Decsey
Production and Stage Manager: Misha Bauer (Meek)
Performers: Nicole Decsey, Melissa MacTavish, Anett Rumanóczky
Live Composer and musician: Luc Gaylie
About the Artists:
NICOLE DECSEY
Nicole Decsey is an emerging artist with a BFA in Performance Dance from Toronto Metropolitan University. She works as a performer, choreographer, and rehearsal director with multiple Toronto and Mississauga based companies such as Frog in Hand, Create Dangerously, Ismailova Theatre of Dance, Dance : Corps Company, and Human Body Expression. Nicole has trained in Montreal, Vancouver, Toronto and Mississauga with companies such as Transformation Danse, Addo Platform, The Toronto Community Love In, and Toes for Dance. She has had the opportunity to perform in the Toronto Fringe Festival, Nuit Blanche, Long Winter Festival, and other private and corporate venues throughout Toronto. Nicole is a contributing writer for The Dance Current Magazine and smART Magazine. In 2019/2020 she participated in the Emerging Arts Critics Program in association with The National Ballet of Canada, Soulpepper Theatre, Opera Canada and The Toronto Symphony Orchestra. Currently Nicole teaches all styles of dance and has been a dance teacher for the past 10 years she is also a certified ballroom instructor. Nicole is the artistic director of Nicole Decsey Dance Projects. She started the company in 2019 through which she has hosted master classes, film festivals and has created dance pieces for stage and film.
MISHA "MEEK" BAUER
Recent productions and roles include Magpie (PM/SM, Multimedia Jazz Concert, Video Art & Dance slated for early 2023), The Questing Beast (SM, Best Kids Show, Toronto Fringe 2022), Intangible Adorations Caravan (Performer, OtherHeARTs Collective & Lisa Anita Wegner, Independent Production 2022) & Journey With The Wind (SM, Ismailova Theatre of Dance 2021). He also works in Front of House for various local festivals including TIFF, Rendezvous With Madness, The Fringe, Luminato, and more. Outside of Production, Meek is a contemporary and abstract dance artist and the Founder of #CreateDangerously Collective.
ANETT RUMANÓCZKY
In Hungary Anett graduated as an actress from the Shakespeare Academy of Dramatic Arts in 2007. After graduation she became a member of Mainstreet Theatre and worked as an actor for 5 years, during which time she joined the costume department. Anett moved to Canada in 2012 and as of today, she's a full member of Equity UK and ACTRA. She has worked on countless movies and tv series as an actor, stunt and stand-in, such as The Handmaid's Tale, Y the Last Man, Accused, and Robyn Hood to name a few. Anett has also worked on four projects with Ismailova Theatre of Dance as a dancer.
MELISSA MACTAVISH
Originally from Beamsville, Ontario, Melissa MacTavish is a 24-year-old who graduated from the one-year Dance Preparation Program as well as the two-year Dance Performance Diploma at George Brown College in 2019. Melissa has a deep appreciation for contemporary dance and acrobatics. Performances for George Brown College include In Haus (2018, 2019) and Unleashed (2017-2019) with works choreographed by Darryl Tracy, Derek Sangster, Irma Villafuerte and many more. Melissa has also participated in Garage's winter session, performed with Beats and Intentions for Nuit Blanche, performed at dance Ontario weekend, and worked for Legends of Horror in 2019. She has recently performed works by Hanna Kiel and Syreeta Hector for The Fifths Summer Intensive 2022. You can contact Melissa at m.mactavish98@hotmail.com
LUC GAYLIE
As a professional composer and instrumentalist with over 20 years of experience, Luc Gaylie has honed their craft through international tours with St. Michael's Choir, performances as a member of the award-winning band Jammers Waffle House, and through a long history of music directing for theatre and dance shows. With a deep passion for creating music that elevates the art of dance, Luc Gaylie is grateful for the opportunity to work with talented choreographer Nicole Decsey and her talented dancers.
About the Company:
Nicole Decsey Dance Projects is a contemporary dance company based in Toronto and Mississauga.
Dance is an art form that has the ability to tell personal stories, to be a reflection of society, and to comment on the current social and political climate. ​The goal of Nicole Decsey Dance Projects is to move people to think deeper and look introspectively into their own lives. To create stories that people can relate to on a physical and emotional level. Every dance piece created comes from personal experiences shared by the creative team.
​Through emotionally charged movement and music audience members can be guided down a designed path while still forming their own conclusions. The goal, is that through exposing the truth of each performers story the viewer can draw links and similarities to their own lives. In this way the company engages a wide scope of individuals and advocates for the ability of dance to reach and inspire people from all walks of life.
​The work created by Nicole Decsey Dance Projects is rooted in the personal experiences of the collaborators involved. Investigating and exploring vulnerability while having the bravery to put that vulnerability on display.
website: www.nicoledecseydanceprojects.ca
instagram: nicoledecseydanceprojects