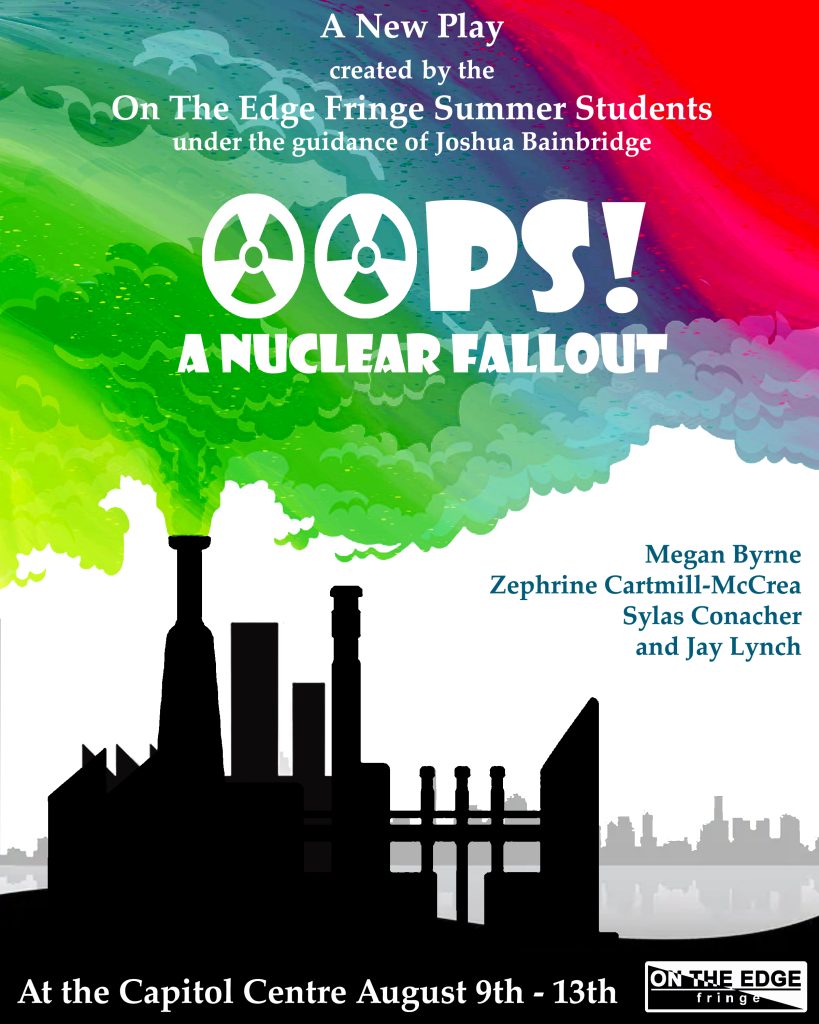 OOPS! A Nuclear Fallout
ON THE EDGE Fringe Summer Students | North Bay, ON
Venue: Spotlight Lounge
Showtimes: Aug 9 @ 5:00 pm, Aug 10 @ 8:00 pm, Aug 11 @ 6:30 pm, Aug 12 @ 5:00 pm, Aug 13 @ 4:00 pm
Tickets: $10
Run Time: Approx. 45 minutes
WRITTEN, DIRECTED, & PERFORMED BY: Megan Byrne, Zephrine Cartmill-McCrea, Sylas Conacher, and Jay Lynch under the guidance of Joshua Bainbridge.
LOL. Who's Pickering? Hope she's okay.
In 2020 an Ontario Emergency Alert was sent across the province in error about an incident at the Pickering Nuclear Plant, a plant that happens to be a storehouse for 16 million kilograms of high-level radioactive waste sitting right on the sunny edge of Lake Ontario. This alert sparked a flurry of panicked messages, causing nearby residents to wonder if they should swallow their radiation-blocking iodide pills or run for cover.
OOPS! A Nuclear Fallout explores the event that had many Ontarians shaken and panicked and the rest silencing their phones in indifference as we start to become aware of the failing social good of social media.
ON THE EDGE Fringe gratefully acknowledges the support of Canada Summer Jobs for funding our summer student program.
OOPS! A Nuclear Fallout was the winner of the 2022 Outstanding Original Work award.