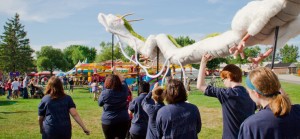 "ON THE EDGE fringe" a Fringe Festival like no other
In 2011, a group of like-minded artists began a journey of development for the purpose of revitalizing the northern artscene especially in North Bay, Ontario. This has led to the development of several arts initiatives but most importantly it has established the need for a local fringe festival. The shared vision is to create a platform where artists and audiences can come together for an outspokenly exceptional experience. This is how ON THE EDGEfringe began and in August 2014. ON THE EDGE fringe will become a reality.
Mission
ON THE EDGE fringe is dedicated to the dissemination, production, and prosperity of independent arts and artists. We create a unique environment where the arts thrive entertaining our region as we move towards the future.
Vision*
· Remain dedicated to creating a spectacle of exceptional proportions that brings the community together.
· To provide artists with access to an amazing audience
· To provide audiences with access to provocative and exceptional artists from local, regional, provincial, national and international acclaim.
· To provide artists with the tools needed to present their work.
· To establish unrestrained creative freedoms for our participants.
*ON THE EDGE fringe's mission and vision is modelled after the London Fringe Festival and we wish to acknowledge them.