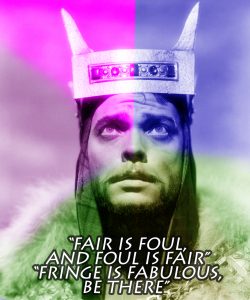 GET WITH THE PROGRAM: The ON THE EDGE Fringe Festival program will be available at the Capitol Centre box office in the weeks leading up to the festival and at the Festival Registration booth during the festival. These booklets help you navigate the schedule and provide information on all the shows, exhibits and activities taking place so you can create your own "must-see" list.
PLAN YOUR PICKS: Performers are responsible for coming up with classifications to accurately represent the content of their shows. We highly encourage patrons to carefully read descriptions, age recommendations, and warnings to find shows that are the best fit for them and/or their group. The ON THE EDGE fringe festival does not censor any presentations; it is the audience's responsibility to read and understand what they are paying to see.
FESTIVAL PASSES: Back by popular demand, we are reintroducing the all-access pass for the week of the festival. Passes allow you to see all shows at the discounted price that is set each year. The proceeds from the passes are divided equally among all performers and are purchased at the Capitol Centre box office. Passes are specific to each person, and are non-transferrable.
FRINGE WITH RESPECT: It takes hundreds of hours to put on a Fringe show and a lot of guts to share your art with an audience. We at ON THE EDGE fringe ask our audience to please respect how hard the performers work by following a few guidelines to ensure everyone has a positive experience: arrive early, please don't take photos or videos, and turn off all electronics before the show begins.
JOIN THE CONVERSATION: Still not sure what shows to go to? This year, ON THE EDGE fringe is encouraging patrons to review the shows they attend and give feedback to the festival on our website (www.fringenorth.com). Have your opinion heard and find out what other people thought about the shows you saw or the one's you might want to see. But that isn't the only way to find out what's worth seeing. Word of mouth is another great way to hear rave reviews from fellow fringers. You can get the scoop from other patrons on site while they're waiting in line for a show, or while you're waiting for one to start. You can also check out ON THE EDGE fringe's social media sites for more info or to share your thoughts:
Facebook: On the Edge Fringe Festival (@fringenorthbay)
Instagram: ontheedgefringe
Twitter: @fringenorth, #fringenorth, #OTEfringe
NEED HELP?: Friendly Fringe staff members are available now and during the festival to answer any and all of your questions. Contact us through social media or email us today.