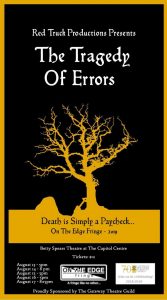 The Tragedy of Errors
Red Truck Productions – North Bay, ON
Sponsored by the Gateway Theatre Guild
Betty Speers Theatre | $12.00 | 50 mins
WRITER/DIRECTOR: Matt Lishman
COSTUME DESIGN: Stephanie Kast
SET CONSTRUCTION: Morgan Bedard
CAST: Caleb Geden, Conner Rueter, Kelsey Ruhl, Maureen Cassidy, Nate Brubacher, Cassidy Bale, and Matt Lishman.
The Tragedy of Errors takes two minor characters from Shakespeare's works and puts them in the spotlight. Weaving in and out of classics such as Hamlet, Macbeth, and King Lear, these players influence the characters we are all familiar with and bring to light new questions surrounding morality and the consequences of our choices.