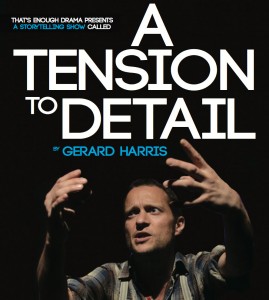 A Tension to Detail
by Gerard Harris
60 minutes
A production by "That's enough Drama".
Describing his show as "the chattiest show on the fringe circuit," British comedian Gerard Harris fits 10,000 words into the one hour of his first-person storytelling show. "The show is about storytelling itself, how and why we tell stories rather than face reality," says Harris. It's an extremely silly comedy – and dirty – but also philosophic. Funny 'ha ha' and funny 'boo hoo'." This show, under a different title, was a sell-out hit when it debuted at the Montreal Fringe two years ago and has since toured internationally. The On the Edge Fringe Festival will be one of eight festivals that Harris will be performing in this season.
*British Comedian, Storyteller & CBC Wiretap guest Gerard Harris gets easily distracted and this is about that. Also Life, Death and all the crap in between.*
*"[an] ever-articulate star" – Montreal Gazette "he's prone to
self-deprecation, philosophical ruminations, and descriptions that might make the more sensitive audience members wince- which is why you should definitely go see him" – Edmonton Journal**** "wired, charming & generous…Gerard Harris is my kind of guy. He's wildly articulate & he masturbates a lot" – The Georgia Straight, Vancouver*
Written contributions by Jessie White and North Bay Nipissing News.