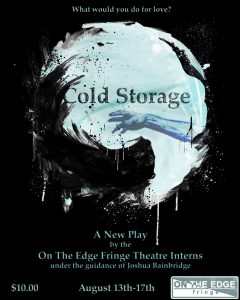 "Cold Storage"
Written and developed by the On the Edge Fringe festival interns; 
Nick Babin, Robert Leitner, Livy Lyle and Emily Tilander 
under the guidance of writer, director Joshua Bainbridge.
Tickets: $10.00
Venue: Capitol Centre Basement
It's the 1950's and Cryogenics are quickly becoming the 'hot' thing. Everybody and their grandmother is signing up to be used to test this new science. A science that would see a body frozen after death and brought back only when a cure for what ailed them is found. Everything changes when lab intern, Reggie Simmons, falls in love with one of the test subjects.