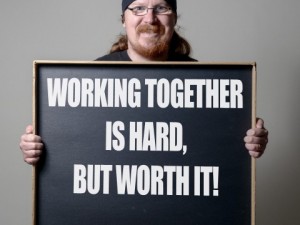 I have been helping with the fringe festival for the past 2 years and everything that we have learned has been through doing. We have had a lot of success and its all because our community has believed in us and helped us to get where we are today. As the festival progresses we gain more people that want to help and find better ways of making the festival a success. This year's festival has grown while putting significant pressure on the volunteers and the coordinators as we have still not formalized our incorporation or been able to hire permanent staff positions.
During the development of this year's production a lot of conversations took place about each of our coordinators involvements and whether they could participate or not in the plays while attempting to do their jobs. We consulted with representatives from other fringe festivals and they agreed that with our current situation, it made sense to do whatever helped the coordinators best. This resulted in some of our volunteer staff people putting their shows in the lottery and securing spots within the schedule. They are playing roles of directing and acting.
It was also discussed as to how this can look to the public and how the best path for fairness and equity can be laid moving forward. 2 productions requested staying in the same venue for the whole week of the festival. This was allowed as they gave up having access to larger spaces and larger profits by doing so. The idea behind this was that someone choosing a smaller venue is at a disadvantage financially and at an advantage with moving around their sets. It was a trade off.
In other festivals productions that stay in the same venue are called "Bring Your Own" venues as they register outside of the lottery and set their own schedules as well. They are usually the only production in that venue and have more autonomy from the coordination of the festival. These 2 acts are in many ways, hybrids of this same set-up.
We welcome any feedback that community has on this year's festival and encourage comments but publicly and directly to any of the festival coordinators. If questions about why things are certain ways come up, speak up. We are here to give answers.
As the festival reaches higher levels of professionalism through incorporating, charitable status and full-time staff, people will inevitably have to choose very specific roles in the festival instead of being part of the plays and coordinating. They will simply not have time to do anything else as the festival gets bigger and more demanding. In our current environment of development and volunteerism we are encouraging everyone to communicate and get involved, the festival will only be as good as we make it, together.
– Clayton Windatt, Festival Helper