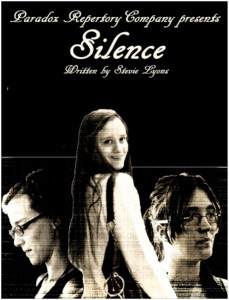 Silence is a script by Stevie Lyons which will be making its world premiere at On The Edge Fringe this August!
Co-directed by Stevie Lyons and Stephanie Fehr.
CAST
Megan: Vicki Bitis
Sara: Stevie Lyons
Brynn: Stephanie Fehr
This monologue based show explores the lives of three young women thrust into the scary world of adulthood.
Mature content and coarse language. Not recommended for younger audiences.
Run time: 40 min
Tickets – $5
Seating is limited so get your tickets now by contacting any cast member or by emailing the.paradox.of.theatre@gmail.com