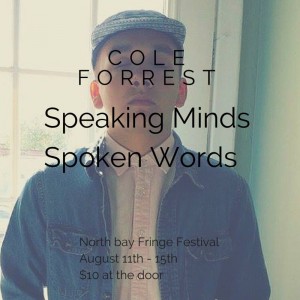 Speaking Minds Spoken Words
by Cole Forrest
40 minutes
Spoken word artist Cole Forrest performs a 40-minute set of stories, songs and spoken word pieces "about becoming in touch with his Aboriginal Culture, accepting of himself and the modern, dream-filled mind of a teenager." Forrest explains that spoken word is a competition-based style of poetry that you don't usually see much of in North Bay. "It can be very political or very personal – mine is personal to an extent." Forrest is a local artist who has been performing in the area, and provincially, for the past two years with Aanmitaagzi, the multi-disciplinary arts organization based out of Nipissing First Nation.
Opening Night, Tuesday, August 11th- Galaxy Circle Lounge @ 9:15pm
Second Night, Wednesday, August 12th- Kennedy Gallery @ 7:45pm
Third Night, Thursday, August 13th- Capitol Basement @ 5:00pm
Fourth Night, Friday, August 14th- Galaxy Circle Lounge @ 8:10pm
Fifth Night, Satuday, August 15th- Cecil's Map Room @ 5:00pm
Written contributions by Jessie White and North Bay Nipissing News.