The 2019 Sun Dog Theatre Festival, took place from March 27th – 30th and proved to be a tremendous success.
ON THE EDGE Fringe's new curated winter theatre festival featured a wonderfully received production of Arthur Miller's The Crucible, directed by Kelsey Ruhl, and a rousing community-engaged performance piece, THE SPACE BETWEEN US, by Clayton Windatt.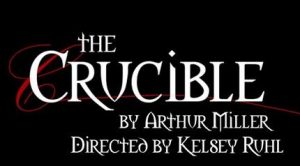 CAST
Joshua Bainbridge – John Proctor
Maureen Cassidy – Elizabeth Proctor
Rod Carley – Deputy Governor Danforth
Morgan Bedard – Rev. John Hale
Rob McCubbin – Rev. Parris
Emily Tilander – Abigail Williams
Marla McHardy – Mary Warren
John Talbot – Giles Corey
Nancy Thompson – Rebecca Nurse
Anthony Leclair – Ezekiel Cheever
Verlyn Plowman – Judge Hathorne
Francis Hanover – Tituba
Jim McCaskill – Thomas Putnam
Steph Kast – Mercy Lewis
Angelyka Sopchyshyn – Betty Parris
Kaylie MacNeil – Susanna Wallcott
Stevie Lyons – Ann Putnam
Denis Stokes– Francis Nurse
Emily O'Kane – Sarah Good/ Martha Corey
Matt Lishman – Marshal Herrick
Andrew Chouinor– Marshal Hopkins
PRODUCTION TEAM
DIRECTOR- Kelsey Ruhl
ASISTANT DIRECTOR- Kaitlyn Stewart
STAGE MANAGER- Caitlyn Murphy
LIGHTING DESIGN- Spencer J. King
LIGHTING ASSISTANTS- Caleb Geden and Matt Lishman
SOUND DESIGN-  Joshua Bainbridge
COSTUME DESIGN- Steph Kast
SET DESIGN- Joshua Bainbridge
SET CONSTRUCTION- Morgan Bedard with Matt Lishman, John Talbot and Jim MacCaskill
STAGE COMBAT- Joshua Bainbridge
SPECIAL PROP CONSTRUCTION- Francis Hanover and Nancy Thompson
SCENIC PAINTERS- Kaitlyn Stewart and Francis Hanover
CHOREOGRAPHER- Jen Ritchie
This was a Canadian Actors' Equity Association production under the Artists Collective Policy.
THE SPACE BETWEEN US
Featured
Clayton Windatt
Caleb Geden
Matt Lishman
Jacob Dayfox
And works by Joshua Bainbridge
"THE SPACE BETWEEN US" is a series of community-engaged activations exploring the spaces between arts advocates and communities they set out to represent.