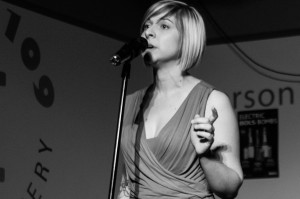 Unorganized Territory
by Erinn White
30 minutes
Stand Up Comedy.
For any inquiries by email at Erinn.white@gmail.com. On twitter: erinnwhite
"Unorganized territories are the remote parts of our province. All my life I've done a lot of political and social justice work, which can be exhausting and so I have this fantasy of packing up a muscle car full of little dogs and taking off for 'unorganized territory.'" So begins Erinn White in describing her stand-up comedy show. "The show is about home and how home has changed – building a home even though I'm living a nomadic lifestyle," says White. "The funny stuff is all the missteps I make along the way." White grew up in Callander but left Northern Ontario almost twenty years ago. She began stand-up a year ago as a way of conquering her fear of public speaking and has been performing across Southwestern Ontario ever since.
Written contributions by Jessie White and North Bay Nipissing News.