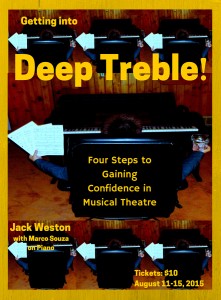 Title of Production: Getting into Deep Treble: Four Steps to Gaining Confidence in Musical Theatre
Running Time: 40 min.
Writer & Director: Jack Weston
Piano: Marco Souza
This production is written and directed by Jack Weston and "a musical medley, a compilation of songs". Accompanied by Marco Souza on piano, Weston describes his piece as a good introduction to "the singing lifestyle." "Basically, I am teaching the audience as to how anyone can be, if not a good singer, at least a confident one." The production runs 40 minutes.
Written contributions by Jessie White and North Bay Nipissing News.