Hey, fringers! In early May, we announced the cancellation of our physical festival due to COVID-19, but you know what they say – you can't keep a good festival down!
We're turning up the heat this summer and bringing you a new type of fringe experience, a digital fringe experience! We'll be presenting performances and readings from our 2020 fringe participants, as well as live musical performances on our virtual patio, a charades showdown, and much much more!
We'll be posting information about our fringe shows and schedule below, but don't forget to check out our Facebook page for more details and fun fringe activities!
All festival events are free of charge, and the organization is accepting donations to help offset expenses. We have also launched our 2020 t-shirts which are available for purchase here.
2020 Digital Fringe Line-up (in alphabetical order):
All performances will be posted on our YouTube channel


"Ghosts at the End of Tomorrow" and other recent works by Clayton Windatt
Blood-Teeth-Bones Collective | Sturgeon Falls, ON
Run Time: Approx. 60 mins


Happy Happy Fun Time
ON THE EDGE fringe Summer Student Program | North Bay, ON
Run Time: Under 60 mins


I'm With You, Not With You
Unwrap Theatre | Kitchener, ON
Run Time: 15 mins


If Anyone Reads This…
Bird On Stage | Toronto, ON
Run Time: 60 mins


Pontypool
Joe Drinkwalter | North Bay, ON
Run Time: Approx. 40 mins


ROD READS (An ON THE EDGE Fundraiser)
Word Toast Collective | North Bay, ON
Run Time: 50 mins


The Four Seasons of Buenos Aires
PointeTango | Montreal, QC & Buenos Aires, Argentina
Run Time: 40 mins
Don't forget to check out our Fringe-Tini Patio Session Artists live on Facebook, and our Duality-Firestarter digital offerings on YouTube every night of the festival!

2020 Festival Schedule: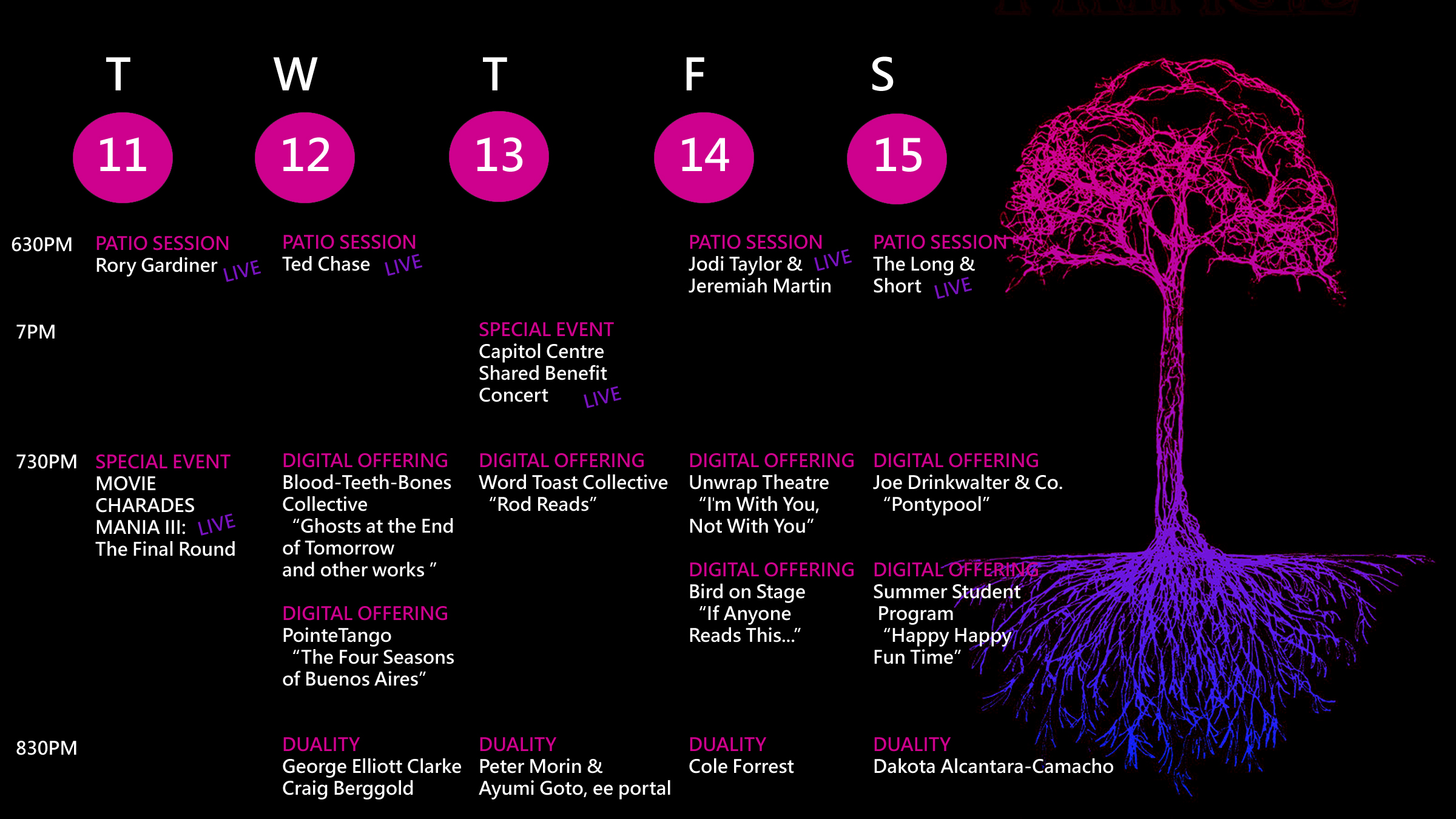 ON THE EDGE fringe acknowledges the generous support of the Government of Canada through the Department of Canadian Heritage and Canada Summer Jobs for this year's festival.