Local fringe festival going digital this summer
North Bay, ON – With the rise of the COVID-19 pandemic, many festivals and arts organizations have had to cancel their events and close their doors. Some may never reopen, while others have had to find new ways to operate in order to move forward. Earlier this year, North Bay's ON THE EDGE fringe had to cancel both the Sun Dog Theatre Festival, scheduled for late March, and their summer fringe festival, scheduled for August, but recently they've announced that they will be shifting gears this summer to present an online festival in place of Fringe.
ON THE EDGE fringe: A Digital Experience will take place from August 11 – 15, 2020, the same dates their regular festival would have taken place. The format is quite a bit different though, with activities taking place on Facebook and YouTube instead of on stage. Each night of the festival will open at 6:30 pm with a Fringe-tini Patio Session live on the Festival's Facebook page. The sessions will feature different musicians each night, and on Thursday night, Fringe will partner with the Capitol Centre to promote the Centre's Sharedbenefit Summer Concert Series.
Following the patio sessions, viewers will be able to access all the evening's featured fringe shows. There are seven shows scheduled for the digital festival, featuring artists and companies originally scheduled to participate in this year's Fringe. The participating artists and companies are Bird On Stage, Blood-Teeth-Bones Collective, Joe Drinkwalter, PointeTango, Rod Carley and Unwrap Theatre, and there will also be a presentation from ON THE EDGE fringe's summer interns. Up to two shows will be posted on YouTube each night and available for viewing for up to 48 hrs. The opening night of the Festival will feature the third of three live charades showdowns between Joshua Bainbridge and Morgan Bedard on Facebook in place of Fringe shows.
All festival events are free of charge, and the organization is accepting donations to help offset expenses. They have also launched their 2020 t-shirts which are available for purchase through their website.
For more information, please visit the 2020 Fringe Festival page.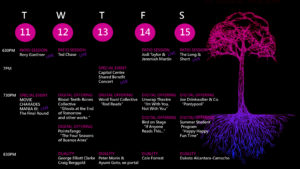 ON THE EDGE fringe acknowledges the generous support of the Government of Canada through the Department of Canadian Heritage and Canada Summer Jobs for this year's festival.