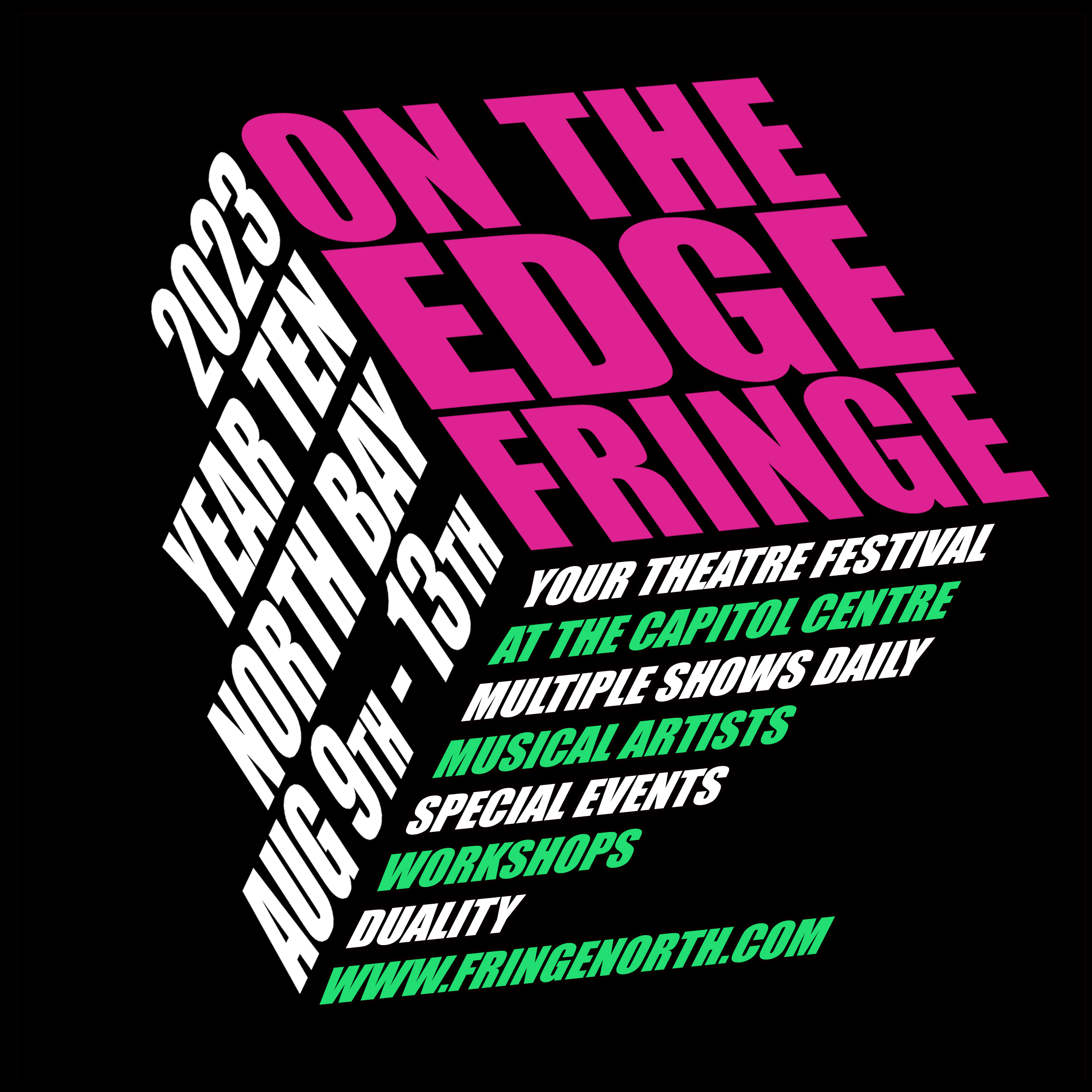 FOR IMMEDIATE RELEASE:
July 30, 2023
ON THE EDGE Fringe Festival celebrates 10th anniversary 
North Bay, ON – ON THE EDGE Fringe Festival is back with another exciting line-up of arts presentations and events to make North Bay's summer sizzle. The festival will take place from August 9th – 13th at the Capitol Centre and in other downtown locations and is extra special because it marks their 10th anniversary of operations.
To celebrate their 10th year, ON THE EDGE Fringe has put together an amazing line-up of Fringe shows, Duality presentations, and other fun events to delight, entertain, and engage audiences. Information about this year's festival, including the full schedule of events, can be found on their website (www.fringenorth.com). The festival has grown a lot over the last 10 years, and what started out as a two-day festival in the basements of downtown businesses has grown into a five-day festival in four venues at the Capitol Centre with several additional arts events taking place alongside the Fringe.
The artists & companies participating in this year's Fringe include Darwin Parkes, Keegan MacNeil-Kettle, D20 Daddy Productions with Joshua Bainbridge, My Auntie's Dream (MBP Productions), and Bear & Rogue Theatre, all from the North Bay area, as well as Falling Iguana Theatre from Toronto, ON, The Ringos from Midland, ON, and Projet Ambidanse and Hard Times from Montreal, QC. There is a wide variety of shows including drama, dance, comedy, spoken word/storytelling, drag, and live sessions of Dungeons & Dragons. Whether you are looking to laugh, cry, or sit on the edge of your seat, ON THE EDGE Fringe guarantees there will be something for everyone to enjoy.
The festival's Duality program, a curated series of performances and events that takes place during Fringe week, also has some interesting items on the menu this year. Ruth Howard will be facilitating community-engaged drop-in art-making sessions as part of her CarePlay project that explore routines of care and how those roles shift and change throughout our lives. Chris Dupuis of RT Collective will present an interactive lecture-style performance called Dead People Are Liking Things On Facebook that explores our online afterlives and their value to those we've left behind. Sudbury artists ee portal will present video works and a sonic performance from their project this blue ethic Friday evening, and Saturday night will feature two contemporary dance performances, NEURONS & We Lost You a Long Time Ago to close out the evening.
The most exciting addition to this year's festival is the new Fringe Patio, a pop-up patio in the municipal parking lot behind the Capitol Centre that will be open all day on Saturday. The outdoor patio is a first for the festival and will feature live musical performances from local artists Jude Zappala, Hannah Grace, Davi Aquino, Jodi Tay, and Sam Depatie, as well as an open mic session at the end of the day. Drinks and snacks will be available on the patio, and it will be a great place to hang out and relax between festival events. The Fringe-tini Lounge inside the Capitol Centre will also be active throughout the festival and will include performances from Latarah Michelle and Jacob Dayfox.
Other events taking place during the festival include Fringe Trivia hosted by Super Fun Time Trivia on August 1st, a Compass Vox Choir session on August 8th, a contemporary dance workshop on August 9th, a documentary screening on August 10th, a Fringe Party at Lou Dawg's on August 12th, and the annual Fringe Awards ceremony in the Fringe-tini Lounge to close the festival on August 13th.
Tickets to the Fringe shows are $12 this year and may be purchased through the Capitol Centre Box Office or at the door of each venue. Festival Passes, which provide access to all shows, are also available for $100. Admission to the other activities and events are free unless otherwise indicated.
Don't miss this amazing and exciting festival this summer! Join us at the Capitol Centre from August 9th – 13th and stay fringey!
ON THE EDGE Fringe acknowledges the generous support of the Government of Canada through the Department of Canadian Heritage, the Ontario Arts Council, and the City of North Bay, as well as our festival sponsors Northgate Shopping Centre, Hampton Inn, Gateway City Brewery, TD Bank Group, The Engraving Shoppe, Lou Dawg's, Expressive Promotions, and the Capitol Centre for this year's festival.